Misting fans are the micro droplets of water that giving you a natural fresh cool air. Refresh the surroundings which will work completely to freshen your day. This obtains to control of humidity by means of microprocessors. Misting fans spray a micro water to stay cool. The tiny water droplets are sprayed into air to cool down the environment. The misting head is attached to the outer frame of the fan. The misting nozzles break the water and produces mist, that turn any fan into air chilling mist fan with the use of mist ring. It depends to the area you want to covered by the air, we have a wide variety of products from low pressure up to high pressure. Misting fans can be used for residential, industrial, commercial, can be portable misting fan applications include dust control, warehouse cooling, restaurant, event garden, open building or open areas.
Portable Misting Fans
This portable misting fan is convenient to use and easy to handle. Whether you are in the garden, beach or anywhere else, it can help you make the humid environment become clean, cool and comfortable. The small size makes it easy to carry around.
This misting fan is cooling your body in summer! Its portable and you can carry it to anywhere. So it is a good helper for those who want to be cool. You can adjust the water mist amount randomly, moreover the surrounding area can be used to achieve 30-50 square meters. So that you needn't worry about the water in your room or car getting wet.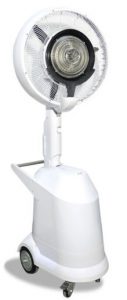 Wall Mount Misting Fans
The wall mount misting fan is fitted with two pull-strings that hang from the bottom of the water tank, the pull-strings operate the fans operation/speeds and also toggle the misting component of the fan. The fan runs on a variety of settings, so you can find your perfect setting whether its just a little humidity or cooling off in your hot tub after a long day at work.
Not only does this fan keep you cool during the humid summer months, but it also doubles as a humidifier. This fan provides relief from the heat and humidity to reduce your dependence on air conditioning. The mist function can help create a healthy indoor environment in various locations such as offices and workshops. Made with metal material for durability, it features two pull-strings that hang from the bottom of the water tank.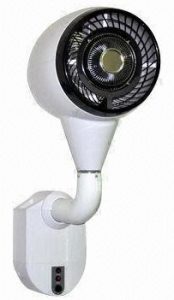 Fog Cannon
Fog Cannons are designed to produce large volumes of condensed water droplets that can be used to suppress dust in large areas where visible dust is a problem. They provide an alternative to water fogging systems, while also reducing rubble impact on surrounding areas by absorbing its own weight in water.
Fogging makes it easier for workers to see what they're doing and reduces the irritation caused by particles in their airways. These devices are great for blasting away dust at mine sites, demolition sites and construction areas'.